Kerrygold Surpasses €1bn In Annual Retail Sales In 2019
Published on Apr 8 2020 10:18 AM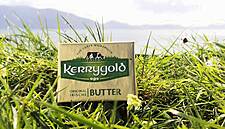 2019 was a 'momentous year' for the Kerrygold brand as it surpassed €1 billion in annual retail sales, new figures from Ornua showed.
Ornua delivered a very strong trading performance in 2019 against a backdrop of significant external challenges placing Ornua in a strong financial position to manage the unprecedented challenges presented by COVID-19, the company said.
The largest exporter of Irish dairy products' operating profits for the year increased by 21.5% to €49.1 million, while its revenues rose by 11.5% to over €2.3 billion, according to its recently published annual report.
The groups earnings before interest, taxes and amortization (EBITA) was up €18.7 billion year on year.
'Most Successful Food Brand' 
Kerrygolds sales figures last year has 'cemented' it as 'Ireland's most successful food brand', the argi-food co-operative said.
"The success of Kerrygold is a direct result of brand and infrastructure investment in strategic markets for nearly 60 years, all made possible by the 14,000 Irish farming families that we represent," said John Jordan, chief executive, Ornua.
"In 2019, market share grew in key strategic markets of Germany and the US while new product extensions of our cheddar portfolio were launched in Germany and the US where market share of the category grew to 43% and 20% respectively," he added.
This success has allowed Ornua to pay a brand premium of €18.5 million to members for Kerrygold product in 2019, the company said.
Ingredients Business 
2019 was a special year for Ornua Ingredients as it saw the rebuild and opening of its €30 million mozzarella and pizza cheese production facility in Ávila, Spain.
Currently, Ornua supplies enough cheese for over 100 million pizzas each year, including blends for both European and global pizza chains.
"The passion and commitment of our teams has allowed us to deliver a facility that encompasses scale, efficiencies and technologies that will secure our position as a leading pizza cheese supplier," he added.
Looking Ahead
The global trading environment in which it operates in, continues to pose challenges, it added.
"2019 saw the unwelcomed introduction of US tariffs, extreme weather events and market volatility while 2020 will reveal the full implications of Brexit as well as the effects of COVID-19 on global trade," Jordan said.
"I am confident in Ornua's ability to mitigate against risk to add value for our members," he added, "we offer a guaranteed route to market for Irish dairy," he added.
"In addition, we are in a position of strength to deliver high quality, nutritious dairy products that meet consumer demand for sustainable food production all over the world," Jordan said.
© 2020 Checkout – your source for the latest Irish retail news. Article by Donna Ahern. Click sign-up to subscribe to Checkout.