Grow Your Sales With Checkout - Advertise Now!
The most influential publication for the grocery retail and FMCG sector in Ireland, Checkout has been in operation since 1968, during which time it has established itself as the premier source of news, information, market data and insight into the Irish retail grocery sector.
Checkout is one of Ireland's leading business titles, having been nominated and won Best Business to Business Magazine in Ireland on numerous occasions.
A study carried out by Checkout, in association with FMI, found that 90% of retailers would either 'definitely' or 'probably' buy more of a particular product if they read about it in the pages of Checkout.
With an unrivalled choice of advertising and promotional opportunities across a range of print and digital media titles, Checkout Publications makes it easy and extremely cost-effective for you to promote your products directly to the trade. Whether you're planning a new product launch or you just want to inject new life into an existing product, choose the brand that can deliver.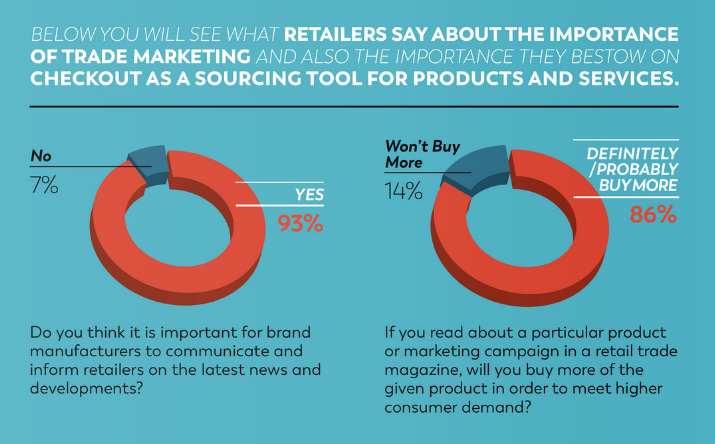 The Integrated Advertising Package
As the market-leading monthly magazine for the FMCG & grocery retail sector, Checkout delivers a powerful combination of news, research and reference data across a range of print and electronic channels.
* Award-winning Monthly Magazine
* 'Retail Intelligence' - our weekly online newsletter
* Checkout.ie website
* Checkout app, available on iOS and Android
We can offer our customers an exciting range of unique and totally integrated advertising opportunities combining our award-winning monthly magazine with our hugely successful weekly e-mail-based newsletter, Retail Intelligence.
Sample Issue - Top 100 Brands 2020*
Promotional activity in Checkout can be reinforced with a variety of advertising opportunity on Retail Intelligence, which can link to other external web resources, such as brand sites and other web-based promotional vehicles.
For FMCG brand owners, distributors, grocery service providers and retailers, an integrated print & digital media advertising package from Checkout is a winning solution.
To find out more about a totally innovative and extremely cost-effective advertising & communications solution for your business, contact our advertising department on +353 1 230 0322 or email [email protected].
To receive a copy of the rate card, please contact the sales team.
Sales Team
Contacts
Pat Murray, account manager, 01 236 5828, [email protected]
Dani Sinnott, senior account manager, 01 236 5821, [email protected]