Call For Entry To The Checkout National Retail Supplier Awards 2019 Has Been Extended
Published on Feb 18 2019 11:50 AM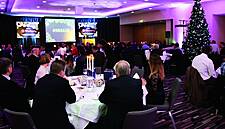 The call for entry to the Checkout National Retail Supplier Awards 2019 has been extended to the 28 February, 2019.
The awards will now take place 8th April, 2019, in the Radisson Blu Hotel, Golden Lane, Dublin.
This is due to circumstances beyond our control, and all entries received to date will be honoured.
Those interested in applying now have until the end of February (Thursday, 28th).
To enter click here.
The awards are designed to acknowledge best-in-class logistics providers, equipment manufacturers, store fit-outs, utility providers, loyalty programmes, facilities management and merchandising teams – in essence, the businesses that work 'behind the scenes' that make Ireland's retail industry one of the most competitive in the world.
Supplier Categories
There are 16 categories in total, which are:
Best New Store Build – Large
Best New Store Build – Small
Best Store Redesign – Large
Best Store Redesign – Small
Best Third Part Logistics Supplier
Best Shop Equipment Supplier – Food & Beverage
Best Shop Equipment Supplier – Non-Food
Best POS Equipment Supplier
Best Commercial Vehicle/Fleet Management Supplier
Best In-Store Merchandising Provider
Best Software Solutions Provider
Best Security Provider
Best Cleaning & Hygiene Services Provider
Best Recruitment Provider
Best Packaging/Design Services Provider
Retail Innovation Of The Year
For entry information or editorial enquiries about the Checkout National FMCG Awards 2018, contact [email protected] or message/call Colette O'Brien on (01) 2365823
Judging Process
Following the receipt of all entries, the judging process for the Checkout NRSAs will commence. The judging panel will comprise acknowledged retail commentators and consultants as well as a number of industry experts.
Where possible, all entries should outline how the business in question has delivered cost savings and efficiency improvements for the retailer that it works with, using examples if possible.
In the case of the New Store Build categories, entries should take the form of a case study, outlining the before, during and after associated with the project. Once the judging process is completed all finalists will be contacted.
© 2018 Checkout – your source for the latest Irish retail news. Click subscribe to sign up for the Checkout print edition.