Amazon's Own-Label Grocery Launch: A Threat Or An Opportunity For 'Offline' Retailers?
Published on Jun 3 2015 3:51 PM in Features tagged: Amazon / Online / Wabel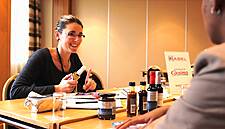 Online grocery shopping is conquering Europe, with Amazon now set to launch an own-label grocery line. But how much of a challenge will this present for the private labels of bricks-and-mortar retailers?
Buyers from the major European purchasing groups and private-label manufacturers will give this issue a lot of thought at the forthcoming Wabel Grocery Summit in Paris, taking place on 28-29 October 2015.
Consumers' Shifting Preferences
Indeed, there are numerous reasons for such concern. With sales amounting to $88.99 billion in 2014, Amazon illustrates the global shift of consumer preference towards e-commerce. As recent research by SyndicatePlus demonstrates, what consumers appreciate the most about shopping online is the freedom to shop whenever and wherever they want.
Some 81 per cent of consumers prefer home delivery, while only 20 per cent are dissatisfied with high grocery delivery costs. With the new Amazon Dash button, a device that will allow ordering immediate home delivery for products with just one touch, it seems almost impossible for offline retailers to compete with the e-commerce giant.
Another e-commerce pioneer, Ocado, a leading online grocery retailer from the UK, demonstrated the secrets to online grocery success during the last Wabel Frozen Summit.
The group's commitment to quality and automated order fulfilment system has allowed the group to achieve impressive growth figures and launch a new private-label range, outpacing all offline retailers in the UK with an annual growth rate of 20.4 per cent.
Compete or Cooperate?
So, in this context, how should offline retailers react? McKinsey consulting group suggests that it's now or never for grocery retailers to move into e-commerce – if they manage to achieve a diversified online offer, a key consumer preference.
But, on second thought, why are we only speaking about competition? A scenario where e-commerce giants like Amazon become an additional grocery distribution channel for offline retailers' brands could be a realistic win-win solution, like the Ocado-Morrisons tie-up.
Effective Sourcing Is Key
In a nutshell, no matter what solution offline retailers go for, they will still have to fight for consumer preference.
With the advent of online grocery shopping, Nielsen estimates that shoppers will become even more price-sensitive and demanding when it comes to a diversified offer. With A-brands engaging in active price wars and promotions, both criteria are hard for a retailer to meet without effective sourcing.
Wabel offers retailers a new cost-effective sourcing solution: Wabel Smart Meetings, a combination of an online sourcing platform, wabel.com, which seeks to build the biggest private-label community in Europe, and offline summits, where buyers can meet certified suppliers from all over Europe during prescheduled private B2B meetings.
Wabel Summits have already generated millions of new private-label business for clients, helping retailers such as Carrefour, Intermarché, Tesco, Metro, Jerónimo Martins and many others to stay competitive by working with affordable, high-quality, innovative products from diverse European suppliers.
Wabel Grocery Summit
• 28-29 October 2015
• Hilton Charles de Gaulle, Paris, France
• 100 Certified Private-Label Suppliers
• 80 Retail Buyers
• 800 Private B2B meetings
For more information, visit www.wabel.com.
[Photo credit: E. Cancet, Wabel Grocery Summit 2014]