Customer Perceptions About PL 'Overwhelmingly Positive'
Published on Apr 22 2015 12:17 PM in Private Label tagged: PLMA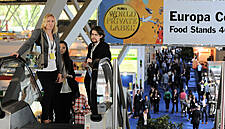 A study by market-research company Nielsen found that customer perceptions of private label are 'overwhelmingly positive' around the globe.
The study, released ahead of the PLMA World of Private Label event in Amsterdam next month, found that two out of three customers feel that retail brands offer 'good value for money' and more than 71 per cent believe that private-label quality has 'improved' in the last couple of years.
The PLMA World of Private Label trade show will take place from 19 to 20 May at the RAI Exhibition Centre in Amsterdam.
Organisers expect this year's instalment to attract more than 11,000 buyers and visitors from over 115 countries. This year's World of Private Label  will host more than 3,500 stands by nearly 2,400 exhibitors from 70 countries.
"This year's trade show, PLMA's biggest ever, provides a unique opportunity for retailers and manufacturers to work together to capitalise on the growing popularity of private label across Europe," said PLMA's president, Brian Sharoff. "Retailers with a strong private-label programme can stand out from competitors."
The trade show will also include the announcement of the winners of PLMA's second annual International Salute to Excellence Awards, which recognise outstanding food and non-food private-label products introduced in the previous year. The winning products will be displayed in PLMA's Idea Supermarket, alongside a vast range of products from across the globe.
In addition, the event will play host to an innovative seminar programme, taking place the day before the trade fair, which will feature three special presentations:
•PLMA's International Salute to Excellence Awards, honouring retailers for innovation in private-label products and packaging;
•Retailers to Watch in 2015, an analysis of the retailers that will be making news in the year ahead by Edgar Elzerman, a former Ahold executive and now owner of Elzerman Consultancy International; and
•Report from America, a look at the latest trends in US retailing and private label by Jim Hertel, managing partner, Willard Bishop, a leading US consultancy.
© 2015 European Supermarket Magazine – your source for the latest retail news. Article by Jenny Zilligen.