Weekly Roundup... 12 December, 2017
Published on Dec 12 2017 10:46 AM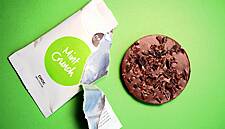 Parkside, has developed a compostable wrapper for nutritious food brand Nobó's new range of chocolate. Based in Ireland, health food brand Nobó, known for its dairy free ice cream, has launched a range of plant based, milk style chocolate. The speciality packaging solutions provider, was commissioned to produce a wrapper for the new chocolate range in alignment with the wholesome plant based chocolate and Nobó's mission to create better alternatives. Parkside responded with a pack manufactured from plant-based materials and a compostable film laminate, achieving excellent environmental, protective and preservative credentials.
A major UK grocer plans to sell products beyond their best-before dates. The East of England Co-op has recently announced it plans to sell the products at the highly discounted price of 10p in order to reduce its food waste.
Portugal is planning to invest around €13 million in the international promotion of its wines next year, according to wine association ViniPortugal. The group, which will invest about €6.5 million of this total, says that 24% will be invested in the US - the main export destination of national wines. The US registered a 9.2% annual growth in volume of Portuguese wine imports between 2011 and 2016.
American drinks company Brown-Forman has reported that net sales increased by 10%, to $1.64 billion, in the first half of its 2018 financial year. The group, which manufactures spirits such as Jack Daniel's and Canadian Mist, reports that underlying operating income grew by 14% during the period, helped by the timing of operating expenses.
"Brown-Forman's second-quarter and first-half results were excellent on both a reported and underlying basis," said Paul Varga, company chief executive.
Top Oil is calling on companies across Ireland to get involved in the second Top Oil Charity Mascot Race to raise funds for charities on 29 December at the Leopardstown Christmas Festival. The Irish family owned home heating and fuel business will represent their chosen charity and the winner of the race will award the total prize charity fund. Top Oil's mascot Mr. Ted racing against other company mascots on the famous Leopardstown track to help raise awareness and donations for worthy Irish charities.
© 2017 - Checkout Magazine