About
The most influential publication for the grocery retail and FMCG sectors in Ireland, Checkout has been in operation since 1968, during which time it has established itself as the go-to trade magazine for the country's highly competitive retail industry.
With an experienced team of award-winning journalists, Checkout is Ireland's premier source for news, market research, data analysis and insight, and major grocery and FMCG trends.
As well as focusing on supermarket product lines, Checkout covers key areas of interest to senior management and buyers operating in the grocery retail, FMCG and manufacturing sectors, such as supply chain and retail logistics management, retail technology (including in-store scanners and ePoS, eCommerce and online food shopping), price monitoring, the latest in mobile technology, product packaging, retail store design, sustainability/environmental best practice and much more.
Subscriptions for Checkout start from €49 (+vat) for the digital edition to €179 (+vat) year for our Premium Plus package which included our print and digital packages.
To subscribe, contact Colette O'Brien, at 01 230 0322, or email [email protected]
Who Are We? 
Ireland's dedicated magazine for the grocery retail and FMCG sectors, Checkout is an award-winning publication and a must-read title for senior managers and top-level executives working in the sector or supplying to the grocery retail and FMCG industries.
Checkout magazine is edited by Maev Martin and Checkout.ie and our weekly e-newsletter Retail Intelligence is edited by Donna Ahern.
Checkout is the sister publication to the leading pan-European retail magazine, European Supermarket Magazine, as well as Ireland's leading food service magazine, Hospitality Ireland.
Who Reads Checkout? 
Checkout is distributed to the owners and managers of retail stores across the independent, multiple, forecourt, discount, speciality and symbol sectors, including store managers and key executives at head office level in multiples, discounters and wholesalers. 
Checkout is also distributed to food manufacturers, importers, distributors, logistics providers and all support industries supplying the grocery sector (e.g. marketing, advertising, public relations, banking and other service providers).
Controlled Distribution
Checkout operates on a fully controlled subscription base, which means that we know exactly who gets our magazine, and what their role is within their respective company.
For more details on our subscriber base and circulation, please contact our ad department on 01 230 0322 or at [email protected]
What Can We Do For You? 
Our core business is the food and drink sector and all things grocery retail - we stick to what we do best, and do not publish products outside of the grocery and hospitality sectors. Our editorial output includes:
Checkout Magazine
Our multi-award winning monthly title, Checkout has been a bastion of industry news, market-leading research and discussion for over 40 years. The most influential title in the marketplace, Checkout continues to push the boundaries and deliver up-to-the-minute breaking news and analysis.
Retail Intelligence 
Published every Tuesday morning, Retail Intelligence makes it easy for busy brand owners, distributors and retailers to stay well informed on the latest news, industry trends and competitor activity. The e-newsletter allows readers to receive a synopsis of the latest FMCG and grocery trade news over the course of the last seven days. Retail Intelligence is a valuable accompaniment to our monthly magazine and subscription package.
Checkout.ie
Our dedicated website further enhances our offering to the trade. The website showcases breaking news, features, exclusive online research and analysis, as well as information about upcoming events - an online complement to the wide range of services Checkout offers to its readers.
Off-Trade News
Our dedicated section for the off-trade sector means Checkout will now be your one-stop shop for all your off-licence and drinks industry news. Off-trade news and in-depth features, with interviews from leading players at the retail and manufacturer level, form a key part of this section.
Retail Report Card
Our popular Retail Report Card, featuring a mystery shopping assessment of the retailers that comprise a particular Irish town, is one of the most eagerly anticipated sections of Checkout each month. Strong on detail and analysis, this is a must-read for those involved in the trade. Retail Report Card is produced in association with Customer Perceptions.
ShopperWatch: The Inside Track On Irish Shoppers
ShopperWatch is an exclusive partnership between Checkout and Behaviour & Attitudes (B&A). Every month, ShopperWatch tracks shopper opinions on retailer advertising, new product launches and retailer and brand promotions, as well as addressing key topics affecting the retail and FMCG industries today.
Checkout Award and Conference Programmes
Checkout Conference
The Checkout Conference is the longest-running dedicated conference for the grocery retail and FMCG industries in Ireland. The Checkout Conference was established in 1979 and is considered a 'must-attend' event for those in the trade, due to the high calibre of its world class speakers from Ireland and its status as a premium networking opportunity.
Checkout National FMCG Awards
The Checkout National FMCG Awards is the only awards recognising excellence in sales and marketing in the Irish grocery retail sector. The awards honour best-in-class performance in areas such as new product development (NPD), merchandising and sales support, innovation in advertising and marketing, and sponsorships by both retailers and suppliers.
Checkout National Grocery Retail Awards
In 2020 Ireland's premiere awards for fresh food retailing, the Checkout Best in Fresh Awards, is joining forces with the leading awards for suppliers to the industry, the National Retail Supplier Awards, to create the National Grocery Retail Awards.
Amalgamated, these awards will create the largest and most prestigious awards for the industry in Ireland and are set to become one of the most eagerly anticipated events in the grocery retail calendar.
The National Grocery Retail Awards will continue the important work that the previous two awards did in highlighting best in class excellence in retailing and honouring the companies and suppliers who help these stores and chains to achieve this level of global excellence.
The awards will also include a number of exciting new award categories such as the award for Best Retail Group of the Year, Best Off-Licence, Best Cash & Carry and Best Sustainability Initiative.
Checkout Best In Fresh Awards – now incorporated in the National Grocery Retail Awards
The Checkout Best in Fresh Awards, reward, encourage and promote excellence in fresh food retailing in Ireland, with retailers of all sizes and formats recognised for their high standards in this area. The awards, which are open to all retail groups and independent retailers, including multiples, symbols, discounters and non-affiliated stores, are the only annual event honouring excellence in fresh produce in the country.
National Retail Supplier Awards - now incorporated in the National Grocery Retail Awards
These awards acknowledge and reward those best-in-class suppliers behind the scenes that make Ireland's retail industry one of the most competitive in the world.
Circulation Details
Checkout magazine is distributed by controlled circulation (ABC audited) to managing directors, head buyers and business managers within the major retail multiples, symbol groups, forecourts, wholesale/cash & carry, and brand owners and manufacturers in the FMCG industry.
Subscribe To Checkout
To keep up to date on all the latest industry and product news from Ireland and the world subscribe to Checkout.
Subscription rates for Checkout start from €49+VAT for the digital edition to €179 (+vat) year for our Premium Plus package which included our print and digital packages.
To subscribe click on the link below or contact Colette O'Brien, at 01 230 0322, or email [email protected]
SUBSCRIBE HERE
ADVERTISING QUERIES
If you are looking to increase your sales to the Irish retail sector, please contact our sales team for a tailored marketing campaign to fit your needs.
CONTACT: [email protected] or speak directly to one of our sales team today.
DANI SINNOTT +353 (0)1 236 5821 | [email protected]
PAT MURRAY +353 (0)1 236 5828 | [email protected]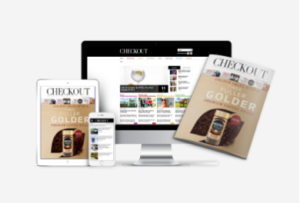 Subscription rates for Checkout are €139 (+vat) per year, including first class postage and packing. To subscribe, contact Colette O'Brien, at 01 230 0322, or email [email protected]