Distillery Launches Second Batch Of Its Sold Out Dingle Single Malt Whiskey
Published on Mar 21 2017 11:40 AM in Drinks tagged: Trending Posts / Trending Post / Dingle Whiskey Distillery / Dingle Whiskey Cask Strength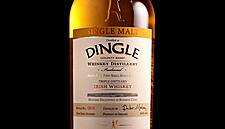 Dingle Whiskey has launched a second batch of its Single Malt Whiskey, which previously sold out following it's original launch in November, 2016, the distillery said in a statement it issued today (21 March.)
A further 3,500 bottles is now available from select stores and bars nationwide. It has also released a 'very limited' quantity of the Dingle Whiskey Cask Strength.
"Whiskey aficionados are always keen to add a bottle of first batch whiskey to their collection," said Elliot Hughes of The Porterhouse Brewing Company.
"The demand in November was phenomenal, so we're delighted to be able to release the rest of the first batch!" Hughes added.
The handcrafted whiskey is made using an 'immensely manual mashing process, to hand labeling and bottling'. It is triple distilled using three individual copper pot stills which gives the whiskey its unique flavour.
© 2017 - Checkout Magazine by Donna Ahern