Who Will Be Celebrating Their Sales This Christmas?
Published on Nov 8 2021 5:50 AM in Drinks tagged: Trending Posts / Christmas / COVID-19 / NielsenIQ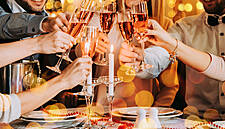 Katie Varian, senior retail account manager, NielsenIQ, looks at how the take home alcoholic drinks market performed during Christmas 2020 and how it is likely to fare during Christmas 2021.
If I had €1 for every time I read or heard something along the lines of '2020 was a year like no other' I'd be a very wealthy woman.
However, it is unlikely that I would have generated €2.3 billion, which is what the Irish FMCG market was valued at for Christmas 2020 (defined as the eight weeks ending 27 December 2020), representing a value growth of 13% compared to the same period for 2019.
Of this spend, 16% was made up of take home (off-trade) Beer, Wine and Spirit (BWS) sales, categories that typically over index on sales in the last month of the year. As we begin to approach the 2021 festive season, let's take a look back at how the take home alcoholic drinks market performed during Christmas 2020.
Standout Performer
The take home alcoholic drinks market in Ireland was valued at €378 million for Christmas 2020, representing a phenomenal growth of 33% compared to the previous year.
This figure is even more impressive given that growth stood at just 1.3% when we compare Christmas 2019 with Christmas 2018. Overall, this growth was volume-led (volume sales were up by 35% compared to the previous year) as prices per kilogramme fell slightly, by 1.5%.
Beer was the standout performer within take home alcohol during Christmas 2020 and drove the increased volumes in the market, as Irish consumers bought an extra 12.8 million litres of beer compared to Christmas 2019.
Beer also saw the highest value growth of all BWS categories, at 50% compared to the previous year.
Multiples Drive Value
With hospitality partially reopening last Christmas, many consumers were enticed to redirect spend to on-trade channels. However, a large proportion still consumed alcohol at home and multiples drove value through pushing increased volumes with larger pack sizes.
Total volume sold increased by 28%, yet the units sold grew by just 0.9%. Consumers were buying roughly the same number of packs, but these were much bigger than in previous years (think 24 pack slabs of beer).
Although this contributed to a value increase of 26% for take home alcohol in multiples, this was behind the growth seen in both the convenience (45%) and specialist off-licenses (40%) and meant that multiples value share of take home alcohol at Christmas reduced from 63% to 60%.
Convenience Channel
The convenience channel also sold greater quantities of take home alcohol during Christmas 2020, with volume sales up by 50% compared to a year ago, the highest increase seen across channels.
Perhaps constricted by space, convenience channels took a slightly different approach to the multiples by pushing increased units sold, which were up by 37%.
There is also evidence to suggest increased range within this channel, as the average number of items per store for take home alcohol (excluding wine) was up by 22% which is, again, the highest increase registered across the channels.
Specialist Off-Licenses
Specialist off-licenses remained a small but important channel within the Irish take home alcohol market and performed well during Christmas 2020, with value share of take home alcohol rising slightly from 7.8% to 8.2%. Unique to this channel was an increase in price per kilogramme, which was up by 3.7% compared to Christmas 2019, particularly driven by wines where prices per kilogramme were up by 7.8%.
A focus on higher priced premium products allowed this channel to differentiate itself from the multiples volume agenda and capitalise on the lingering premiumisation trend that arose during COVID-19 lockdowns.
Beer
As mentioned earlier, beer was the star performer during Christmas 2020, and within beer, lager contributed the highest absolute increase in value and volume.
However, it was far from the fastest growing segment, as COVID-19 did little to diminish our love of stout, with value almost doubling compared to Christmas 2019, at 93%.
Over the eight weeks to Christmas 2020, more than six million litres of stout were sold, which equates to over 12 million 500ml cans. Sure isn't Guinness good for you anyway?
Wine
Value sales for wine were up by 24% last Christmas, the slowest growth out of all BWS segments.
Within wine, sparkling wine saw the highest value growth, of 38%, compared to a year ago, and if we look at the year to date (YTD) value figures (sales data from the week ending 10 January to 26 September 2021) sparkling wine is the only wine segment to remain in growth, at 31% compared to a year ago.
With more gatherings likely to be on the cards this Christmas, retailers and manufacturers should be ready to fulfil consumers' desire to celebrate with a glass of bubbly.
Spirits
Spirits is a segment that usually over indexes in value share of total alcohol at Christmas and 2020 was no exception, as share increased from 23% for the 52 weeks ending 27 December 2020 to 30% for the eight weeks ending 27 December 2020.
As usual, whiskey was the highest absolute value contributor for spirits.
However, the fastest growing spirit drink was rum, with value increasing by 39%. Cream liqueurs was the comeback kid of spirits. After suffering a value decline of 11% for Christmas 2019 compared to 2018, it returned to growth last Christmas, with value up by 35%.
Cream liqueurs are also currently registering the highest year-to-date value growth of all spirit drinks, at 20%, putting it in a strong position as we enter the 2021 festive season.
Conclusion
Currently, for the year-to-date, total take home alcohol value sales are clinging to growth at just 0.9%. To finish the year flat, €580 million in value sales will need to be generated between now and the end of the year.
Given that we are about to lap the October 2020 lockdown and can look forward to a more social Christmas, with hospitality fully reopened, it will be no easy feat to match sales this year.
However, there are opportunities for retailers and manufacturers to close the gap through increased volumes in beer and premiumisation in wines and spirits.
© 2021 Checkout – your source for the latest Irish retail news. Article by Katie Varian. For more Drinks news click here. Click sign up to subscribe to Checkout