Cadbury May 'Shrink The Size' Of Its Chocolate After Brexit
Published on Mar 28 2017 10:32 AM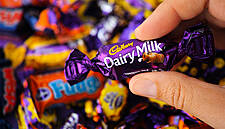 Cadbury has said it may have to raise prices or shrink the size of its products after Brexit, selling smaller products for the same price, reported Theguardian.com
Glenn Caton, who is in charge of Cadbury in Britain, told The Guardian the company would change and adapt to the terms of Brexit.
Caton said the first focus would be on boosting productivity, but that the company may eventually have to pass on higher costs to customers by raising prices or shrinkflation - selling smaller products for the same price.
He said the brand would have to make these changes to protect the quality and taste of its chocolate. He also outlined that Cadbury would always 'put the consumer at the heart and never compromise on quality and taste.'
However despite the UKs plans to exit the EU, the chocolate manufacturers have no plans to leave the UK and that the country would still be the 'home of chocolate manufacturing'.
Caton explained: "It [the UK] is still going to be a huge market. It is still going to be the home of chocolate manufacturing, it is still going to be the home of global research and development. We are still going to have Reading as the centre of science. None of that changes."
"We have 50-odd different nationalities in our research and development centre in Bournville and we do want security for those people. So we want EU nationals who are working here and living here to have the security that they can continue to do so." He added.
© 2017 - Checkout Magazine by Donna Ahern