Kerry Group Achieves 100% Certification Of Its Irish Milk Suppliers
Published on Oct 3 2017 11:09 AM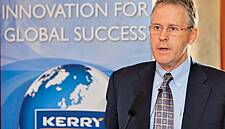 Kerry Group has achieved 100% certification of its 3,300 milk suppliers in Ireland, under the internationally accredited Sustainable Dairy Assurance Scheme (SDAS).
It is the first major milk processor to achieve complete certification.
Launched in December, 2013 under Origin Green, the SDAS audit recognises Ireland-based food firm 'long-term commitment to quality, food safety and traceability as well as animal health and pasture management.'
The quality and sustainability programme reportedly tests farms performances every 18 months.
Sustainability Goals
The group's milk suppliers, spread around South West Ireland, reportedly provide Kerry with over 1.2 billion litres of milk every year, produced by using a natural grass based production system.
"Kerry's heritage lies in processing the highest quality, natural, grass fed dairy and the achievement of SDAS certification by all our milk suppliers is an important part of the Group's broader sustainability goals," said Edmond Scanlon, CEO Designate of Kerry Group.
Through the audit process, Bord Bia also determines a carbon footprint for each individual farm using an accredited footprinting model.
With feedback provided to the farmer directly, the process helps to monitor environmental impacts and supports ongoing improvement.
© 2017 - Checkout Magazine by Donna Ahern