New Tesco Campaign Centres On 'Irish Family Insights'
Published on Aug 1 2017 10:14 AM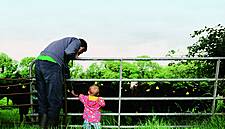 Centred on Irish family insights and working with creative agency Rothco on its recently launched campaign, Tesco has identified that when customers shop, 'they shop with families in mind, and not as individuals', according to a statement it issued today (1 August.)
"What we discovered through our immersive sessions with customers and our ongoing customer data was that Irish people's purchasing habits are motivated by the desire to do their very best for the ones they love." Sean Nolan, Head of Customer Marketing, Tesco Ireland said.
"Family is hugely important to Irish people, and what Irish families may not realise is how important family is to Tesco too."
The retailer has planned an extensive three-year strategy 'aligned with both customer behaviour and Tesco Ireland's business objectives'.
It said that this new repositioning will mean family will be the corner stone of all facets of the business over the next three years.
"We're committed to putting family at the heart of everything we do. This isn't a new departure for us, we have always been rooted in families; we are made up of Irish families, from our colleagues to our suppliers to every generation of our farming families."
© 2017 - Checkout Magazine by Donna Ahern