Weekly Round-up, 22 October, 2019
Published on Oct 22 2019 10:30 AM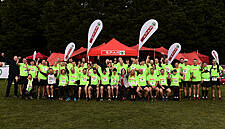 The inaugural Spar Autumn Open Cross Country was hailed a major success by organisers Athletics Ireland as more than 2, 000 runners of all abilities competed at the magnificent Sport Ireland National Sports Campus on Sunday. The purpose-built cross-country course, which will host the European Cross Country Championships in 2020, was picturesque and in magnificent condition considering all the heavy rain – there were some small muddy patches out the back section but in general it was full of running – and all who competed thoroughly enjoying taking on this challenging course. As well as the elite races on the day recreational runners were afforded the unique opportunity to run the course in the Spar Cross Country Xperience, which also attracted a large turnout on the day, including a large number of Spar Retailers. Speaking on the day, Spar Sales Director Colin Donnelly said, "I would like to congratulate everyone who took part in the Spar Autumn Open International Cross Country Festival and the Spar Cross Country Xperience. It was a fabulous day and one that was thoroughly enjoyed by everyone."
Lidl Belgium has announced that it is testing a grocery pick-up service in its Destelbergen outlet. The service, which Lidl claims is a first in the country, allows customers to pick up orders placed online for a fee of €2.99. Customers register in the store via a barcode sent on email to collect their orders. The retailer plans to extend the trial to its store in St-Denijs-Westrem in November of this year.
Soft drink bottler Refresco has entered into a strategic partnership with PepsiCo for the production of beverages in Spain. The agreement, effective 1 November 2019, includes the transfer of two PepsiCo factories in Tafalla and Seville. The two plants will complement Refresco's existing facilities in Spain and provide it with additional capacity for increasing production.
In the shadow of the Massif Central's extinct volcanoes, the production line at French glacé-fruit producer Cruzilles is working flat out to meet a glut of advanced orders from its number one export market: Britain. According to Reuters, the 130-year-old confectioner finds itself at the sharp end of a rush by British retailers to stockpile ahead of Christmas, with a divorce deal between Britain and the European Union still elusive barely two weeks before an 31 October deadline.
Luis Drexel, the founder of Spar Austria, has passed away at the age of 95. He had a decisive influence on the retail industry and played a pivotal role in shaping Spar's business in Austria. Born in Vorarlberg, he was the last surviving founding father of Spar Austria. He took on the role of the chairman of the board, a position held for the next 20 years. He also served as the president of the Spar Austria retailer association for 25 years and was the president of the Spar Austria Supervisory Board for 11 years. In his role as the president of Spar International for 20 years, he was instrumental in the growth of the brand at a global level.
British retailer WH Smith Plc said on Thursday it will buy Marshall Retail Group for about $400 million (€361 million), betting that the American peer's network of stores at US airports will help boost profits soured by turmoil on the British high street, reports Reuters. Business at WH Smith's stores at airports and railway stations has been booming as the over 200-year-old company benefits from rising passenger footfall and new larger-format outlets.
© 2019 Checkout – your source for the latest Irish retail news. Article by Donna Ahern. Click sign-up to subscribe to Checkout.