Weekly Round-Up ... 23 February 2021
Published on Feb 23 2021 10:54 AM in Retail tagged: Aldi / Spar / British / Donal Skehan / Rishi Sunak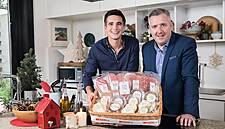 SPAR recently teamed up with Donal Skehan for a new social media campaign called 'Mad Meals with SPAR'. The campaign launched in early February on SPAR's Facebook and Instagram pages with a series of competition and video posts that leverage both the current trend for home cooking and the necessity for some light-heartedness during these challenging times. SPAR are looking for children to dream up some mad recipes for a chance to win prizes from the retailer. These recipes can be anything, the madder the better, from crisps in jelly to chocolate-covered broccoli! Donal has also been put to the test and he has been recreating the recipes in his own kitchen! The first of these fun videos sees Donal cooking AND eating 'Marmite Marshmallow Sriracha French Toast with Sprinkles'! The campaign is a follow on from SPAR's pre-Christmas sponsorship of Donal's Family Food in Minutes which marks 10 years of SPAR's partnership with Donal Skehan on RTÉ. It is hoped that the campaign will bring a bit of fun to kids all over Ireland and keep them entertained for a few hours, while offering a welcome break from home schooling. The videos can be seen on the SPAR Ireland social media channels Facebook - @SPARIreland, Instagram - @spar_ireland
Aldi has donated €30,000 to Kildare-based Homeless Care CLG. The donation will help open the charity's new accommodation facility at Jigginstown, Co Kildare. The new services facility, which will officially open in March, will provide accommodation for young homeless adults aged between 18 and 25 in Co Kildare. Homeless Care CLG provides comprehensive residential-based care, training, and education programmes to young homeless adults to help service users transition from state care to independent living. The donation of €30,000 to the charity is part of Aldi's long-term commitment to helping the local areas in which its stores and distribution centres are located. Aldi has donated more than €77,500 to 155 local charities across Ireland as part of its Community Grants programme, which is aimed at funding charities and organisations contributing vital work and services to their communities. The programme has contributed to 750 local organisations to date, donating over €375,000 since it began in 2016.
British retail sales tumbled in January as shops went back into lockdown, official data showed, but lower-than-expected public borrowing gave at least some relief to finance minister Rishi Sunak as he prepares his next round of emergency spending. The data for January showed that retail sales volumes slumped by 8.2% from December, a far bigger fall than the 2.5% decrease forecast in a Reuters poll of economists and the second largest on record. The smaller fall in retail sales than last April's 18% plunge reflected the growth in online shopping. The Office for National Statistics said public sector borrowing of £8.8 billion ($12.3 billion) was the first January deficit in a decade, but the deficit was a lot less than a forecast of £24.5 billion in the Reuters poll. That took borrowing since the start of the financial year in April to £270.6 billion, reflecting the surge in spending and tax cuts ordered by Sunak. That figure does not yet include losses on government-backed loans, which are likely to add £30 billion to the shortfall this year, according to the Institute for Fiscal Studies think tank. Sunak is expected to extend the government's wage subsidies, at least for the hardest-hit sectors, in his budget statement on 3 March. The Bank of England predicts that Britain's economy - which had its biggest slump in 300 years in 2020 when it contracted by 10% - will shrink by 4% in the first three months of 2021 before recovering, thanks to the fast roll-out of the Covid-19 vaccination programme.
© 2021 Checkout – your source for the latest Irish retail news. Click sign up to subscribe to Checkout.