Weekly Roundup... 22 June 2021
Published on Jun 17 2021 11:00 AM in A-Brands tagged: Aldi / Coca-Cola / McDonald's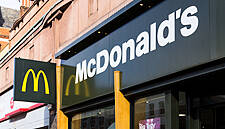 McDonald's has announced 800 jobs in its restaurants across the Republic of Ireland this year, expanding its workforce in Ireland to over 3,000 employees. The roles will be in McDonald's restaurants nationwide including counties Carlow, Cavan, Clare, Cork, Dublin, Galway, Kerry, Kildare, Kilkenny, Limerick, Mayo, Meath, Monaghan, Sligo, Tipperary, Waterford, Westmeath, Wexford, and Wicklow. The roles are being driven in anticipation of crew capacity in restaurants increasing in the coming months, in line with the easing of Government restrictions and public health guidelines. Tánaiste and Minister for Enterprise, Trade and Employment Leo Varadkar TD said, "As Ireland continues on the path to a full reopening, it is extremely positive news to see companies such as McDonald's planning for expansion and growing its workforce."
Italy player Manuel Locatelli has become the latest star to snub Coca-Cola at a Euro 2020 press conference. The midfielder made a point of placing a bottle of water directly in front of his microphone before moving the Coca-Cola out of shot as he took his seat to discuss his Man of the Match win following Italy's display against Switzerland. Coca-Cola's market shares value fell by in the region of $4 billion, following Cristiano Ronaldo's removal of two Coca-Cola bottles during a press conference in Budapest on Monday, ahead of his country's Group F game against Hungary. The 36-year old, Portugal captain snubbed two bottles of the carbonated soft drink before declaring in Portuguese "Agua!" ("Water!") into the microphone. France midfielder Paul Pogba removed a Heineken bottle in front of him at a Euro 2020 news conference, a day after Portugal captain Cristiano Ronaldo removed two Coca-Cola bottles, sparking a furore among football fans.
The European Union's huge subsidy programme for agriculture is failing to rein in greenhouse gas emissions from farming, despite €100 billion of such subsidies being labelled as climate spending since 2014, auditors said on Monday. The environmental impact of agriculture is under increased scrutiny, as the EU seeks to eliminate its net emissions by 2050 - including the 10% of emissions that come from farming. EU negotiators will this week attempt to agree new rules for the Common Agricultural Policy (CAP), the farming subsidy scheme that will spend €387 billion, a third of the EU budget for 2021-2027. A key sticking point is whether the money should be tied to protecting the environment.
© 2021 Checkout – your source for the latest Irish retail news. Click sign up to subscribe to Checkout.