Checkout Conference 2017 in association with dunnhumby: Survive... Or Thrive
Published on Jan 30 2017 10:55 AM in A-Brands tagged: Featured Post / Checkout Conference / Featured Posts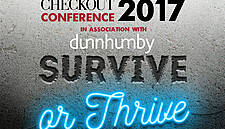 SAVE THE DATE: The Checkout Conference 2017 in association with dunnhumby takes place at the Round Room, The Mansion House, Dublin, on Tuesday 31 January 2017, and is certain to be one of the retail and FMCG networking events of the year for the Irish market.
ABOUT THE LINEUP

Among those set to address the 2017 Conference are Tobias Wasmuht, Managing Director of global retail powerhouse SPAR International; Dalton Philips, Senior Advisor to The Boston Consulting Group, and a former CEO of UK retailer Morrisons plc and Brown Thomas and Michael Carey, Chairman of Bord Bia and Managing Director of biscuit startup East Coast Bakehouse.
In addition, the event will see presentations from Joe Barrett, Chief Operating Officer of forecourt giant Applegreen plc; Vicky Bullen, chief executive of one of London's leading brand design agencies, Coley Porter Bell; Frank Gleeson, Region Managing Director and COO of Aramark Northern Europe, which recently purchased the Avoca business; Aoife Moran, Client Solutions Manager, FMCG, and Antonia Mc Taggart, Client Solutions Manager, Facebook; and Mike Watkins, Head of Retailer and Business Insight, Nielsen.
Finally, Empathy Research will deliver the findings of an exclusive study on the theme of 'Healthy Living: Are We Really Buying It?', analysing consumer attitudes to healthy eating, and whether they are practicing what they preach when making in-store purchases.
CLICK HERE for a timetable of the day's proceedings, or scroll down to view a Conference brochure.
ABOUT THE MC: COLETTE FITZPATRICK
Colette Fitzpatrick is one of Ireland's most renowned business journalists. She has worked in television and radio for two decades, and currently co-presents Newstalk Breakfast on weekday mornings, as well as co-hosting Pat Kenny Tonight on TV3. Checkout is delighted to welcome her to MC the 2017 Checkout Conference, in association with dunnhumby.
TICKET DETAILS
Tickets for the Checkout Conference 2017 in association with dunnhumby are now on sale, priced at €325 (+VAT). Discounts available for multiple bookings (6 for the price of 5). To purchase tickets, contact Colette O'Brien at 01 2365 823 or email [email protected]
Tickets can also be purchased through our online ticket sales partner, Eventbrite.
ABOUT THE THEME
The theme of the Checkout Conference 2017 in association with dunnhumby is 'Survive… Or Thrive'. While the macroeconomic picture seems brighter for Ireland, many businesses are still unsure whether the current financial stability will be long lasting. Sudden shocks like the Brexit vote, coupled with a general public that isn't yet feeling the effects of the recovery, has left Ireland in something of a state of flux.
The Checkout Conference 2017 in association with dunnhumby will examine how brands and retailers can break out of what has been a long period of 'survival' and embrace the challenges and opportunities that the market presents. Where is the added value going to come from, and how can brand owners position themselves for the consumer need states of the future?
The Checkout Conference 2017 in association with dunnhumby will examine the opportunities open to businesses as they look ahead to the challenges of a new financial year, and ask whether they are seeking to either 'Survive... or Thrive?'
CONFERENCE BROCHURE
MEDIA PARTNER: THE SUNDAY BUSINESS POST

The media partner for the 2017 Checkout Conference is The Sunday Business Post. The Sunday Business Post provides independent insight, commentary and analysis of the important stories and issues across a broad spectrum of topics: business, finance, politics, technology, markets, media, marketing and personal finance. www.businesspost.ie 
SPONSORSHIP OPPORTUNITIES
A number of sponsorship packages are available for the Checkout Conference 2017 in association with dunnhumby. Click here for more information.
 ABOUT THE CHECKOUT CONFERENCE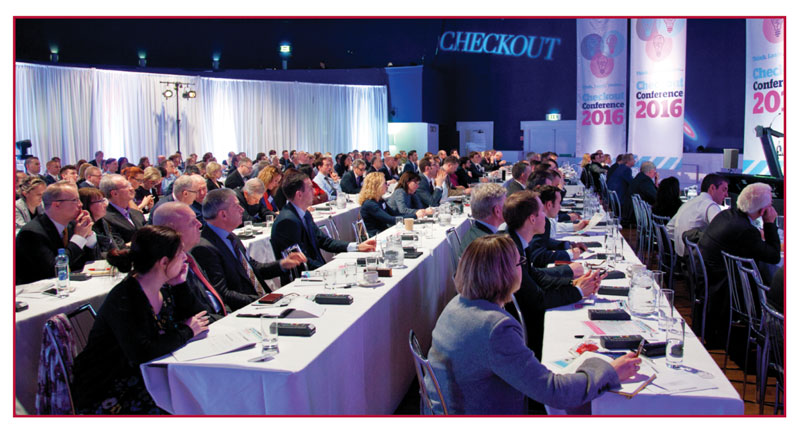 The Checkout Conference is considered a 'must-attend' event for top-level executives in the trade, both due to the high calibre of speakers and its status as a premium networking opportunity.
Prominent speakers that have addressed the Checkout Conference in recent years include Andrew Yaxley, Chief Executive, Tesco Ireland; Maggie Timoney, Chief Executive, Heineken Ireland; Fiona Dawson, President, Mars Chocolate UK; Caroline Keeling, Chief Executive, Keelings; Dieter Brandes, Former MD, Aldi Nord; Bruce Langlands, Director Of Food, Harrods; Chris Martin, CEO, Musgrave Group; Gordon Campbell, Managing Director, Spar International; Joanne Denney- Finch, Chief Executive, IGD; Anna Malmhake, Chief Executive, Irish Distillers Pernod Ricard and many other leading representatives from retail and FMCG.
© 2017 - Checkout Magazine