Checkout Conference 2019: Rising to the Challenges
Published on Dec 14 2017 10:55 AM in Events tagged: Featured Post / Checkout Conference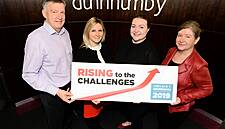 'Rising to the Challenges' is the theme of the Checkout Conference 2019, in association with dunnhumby.
Taking place in the Intercontinental Hotel in Ballsbridge in Dublin on 5 February, the Checkout Conference will look at the opportunities, as well as the challenges, that the future is likely to bring, and we are delighted to welcome back our MC for the 2018 conference, TV3's Colette Fitzpatrick.
The retail sector continues to be pushed to the limits by the always-connected, digitally-minded consumers that want convenience, personalisation and value in the omnichannel world. Retailers are coping with razor-thin profit margins, increasing the pressure to deliver for customers at any time, any place, at the right cost, and personalised to them. Customers don't only wish for, but expect, an exceptional and consistent experience across all channel. The new battle lies in better understanding and successfully anticipating what will appeal to individual customers. Winning that battle is reliant on, among other things, having the right data strategy and exploiting the insights that are now available.
With this in mind, the Checkout Conference 2019 will look at a number of themes that are topical in Irish and global retail, including the continuing rise of personalisation and customisation, making digital technology work for retailers and consumers, how Irish bricks and mortar retailers are faring against their online counterparts, sustainable retail, including how retailers are responding to the needs of the ethical and responsible shopper, the likely impact of a post-Brexit world on Irish retail, and packaging, particularly retailers and FMCG brand's efforts to remove single use plastics from the retail supply chain.
About the Checkout Conference
Organised by market-leading business to business publication, Checkout, this conference is the longest-running dedicated conference for the grocery retail and FMCG industries in Ireland. It is considered a must-attend event for senior executives in the trade, due to the high calibre of speakers and its status as a premium networking opportunity for retail and FMCG professionals. Well-known and highly respected speakers who have addressed the Checkout Conference in recent years include Andrew Yaxley, chief executive, Tesco Ireland, Maggie Timoney, chief executive, Heineken Ireland, Fiona Dawson, president, Mars Chocolate UK, Caroline Keeling, chief executive, Keelings, Dieter Brandes, former managing director, Aldi Nord, Bruce Langlands, director of food, Harrods, Chris Martin, chief executive officer, Musgrave Group, and Gordon Campbell, managing director, Spar International.
Over 200 senior industry executives attended the Checkout Conference 2018, including Aryzta Bakeries Ireland, Glanbia Consumer Foods, Valeo Foods Ireland, The Maxol Group, Smurfit Kappa Display, Mondelēz Ireland, Aramark, Applegreen, Aldi Ireland, Aurivo Consumer Foods, Barry Group, Bord Bia, Boyne Valley Group, BWG Foods, Coca-Cola HBC Ireland, Donnelly Fruit & Veg, Gala Retail Services, John Player, Musgrave Retail Partners Ireland, Mars Ireland, PepsiCo UK & Ireland, and Philip Morris Ltd.
Meet the Speakers
Checkout is happy to announce that a number of speakers have confirmed their participation in next year's event. Further speakers, including the line-up for our Leaders Panel, sponsored by The Sales Institute, will be announced in the coming weeks.
The Right Honourable, The Lord Price CVO, former MD of Waitrose
After reading Archaeology and Ancient History, Mark Price started his career at the John Lewis partnership as a graduate trainee in 1982, progressing to become branch manager in High Wycombe and Cheadle. In 2005, he joined the John Lewis Partnership Board as development director, taking on responsibility for strategy and IT. In April 2007, he was appointed as managing director of Waitrose. At the time Waitrose had 183 stores but this had increased to 346 when he retired in 2016 after 10 fulfilling years in the role. In addition to his position at Waitrose, in 2013 Mark became deputy chairman of the John Lewis Partnership. He was chairman of Business in the Community from 2011 to 2015 and of The Prince's Countryside Fund from 2010 to 2016. He also sat on the Board of Directors of Channel 4 TV, latterly as deputy chairman from 2013 to 2016. He was appointed Commander of the Royal Victorian Order in the UK's 2014 New Year's Honours for his work with Business in the Community and The Prince's Countryside Fund. He is also Life Patron of GroceryAid. In February 2016, Lord Price was appointed the United Kingdom Minister of State for Trade and Investment and was made a life peer. He left the Government in September 2017 to pursue his writing and business interests and remains a member of the House of Lords. To date, he has published five books on business, food and for children.
Kari Daniels, Chief Executive Officer, Tesco Ireland
Kari Daniels has had a career spanning over 25 years in FMCG manufacturing and retail, in both commercial and marketing roles. In September 2018, Kari was appointed chief executive officer of Tesco Ireland. Kari was previously the commercial director for packaged foods in the UK. One of Tesco's most experienced commercial directors, Kari joined Tesco in 2002 as a category director in health and beauty and has held a number of senior commercial and marketing roles in the UK and Europe, including director of brand in Tesco UK's customer team. Before joining Tesco, Kari was the head of commercial for beauty at Superdrug. Prior to that, she spent six years in FMCG brand marketing on the supplier side at Wella and SC Johnson, having started her career on the merchandise planning side of the clothing business at Burton Retail. Kari leads Tesco's Women at Tesco network and is passionate about promoting diversity, specifically women, and inclusion in the workplace.
Seamus Griffin, Chief Executive, Griffin Retail Group
Seamus Griffin is the chief executive of the Griffin Retail Group, Ireland's largest Londis retailer, operating 14 Londis stores in Dublin, and one of the largest independent retail operations in Ireland. The Group also includes 13 Subway restaurants, 5 Freshly Chopped salad bars, a Top service station, and Seamus Griffin's own unique Boomerang Doughnut concept. Seamus's father opened the first self-service store in Dublin in 1951, planting the seed of innovation, and Seamus opened his first store in 1989, on O'Connell Street in Dublin. Seamus pioneered convenience retailing in Dublin and was one of the first retailers to introduce hot food and delicatessen to grocery stores in Ireland, creating a dedicated in-store dining area for consumers in the early 2000s. Seamus also introduced the Subway franchise to the c-store format in 2006 and created Freshly Chopped salad bars within his retail stores in 2014. He continues to expand his business in the city centre and suburban areas of Dublin. Respected as a retailer at the forefront of the industry, this has been reflected by Seamus' success in numerous national retailing awards. Seamus continues to lead innovation in retail, and continues to raise standards in the industry, both in his own business and as a member of the Londis National Retailer Council and the Subway National Marketing Executive.
Mike Watkins, Head of Retailer and Business Insight, Nielsen
Mike is head of retailer and business and insight for Nielsen UK and is responsible for commercial development with food, non-food and e-commerce retailers. Having graduated from Loughborough University with an Economics degree, he worked for Co-operative retailers in various line management positions across buying, marketing and merchandising, before leaving to join Nielsen as business manager. Before taking on his current role, Mike was senior manager for retailer services, with responsibility for strategic planning across the retail and wholesale channels in the UK. Mike is a lead contributor to white papers for Nielsen and regularly shares his viewpoints on the `Retail State of the Nation` with the media and is a member of the Nielsen Global Thought Leadership team, supporting retailer, manufacturer and financial services clients with retail, business and shopper insight for the UK and Europe. Mike is also a member of the KPMG/Ipsos Retail Think Tank. With over 25 years' experience in retailing, Mike's view is that we will see the biggest ever change in how we shop over the next five years, which will challenge the traditional industry business models. The Nielsen Company is the leading global information and measurement company, providing insights and data about what people watch, listen to and buy, with leading positions in more than 100 countries.
Leader Panel
Our confirmed speakers for our Leader Panel sponsored by the Sales Institute to date include: John McCambridge, Head of Sales (Off Trade) for Heineken Ireland; Stephen Dillon, Head of Planning, Mondelez and Paul Lynch, Commercial Director, PepsiCo.
What the Checkout Conference offers
• Insights from leading experts on the retail industry in Ireland and Europe
• Advice from leading FMCG suppliers on effective branding, NPD, category management, and marketing and promotional strategies
• A greater understanding of the typical shopper's needs in a highly competitive marketplace
• Exclusive research from Irish and European industry specialists
• Access to the top FMCG networking event of the year
To book your ticket to the conference click here or contact: 
Colette O'Brien, 01 2365 823, [email protected]
Conference ticket, including gala lunch: €325+VAT.
6 tickets for the price of 5: €1,625+VAT.
© 2018 Checkout – your source for the latest Irish retail news.  Click subscribe to sign up for the Checkout print edition.