Celtech And WCS Partner On Supply Chain Platform For Grocery Industry
Published on Oct 5 2017 12:08 PM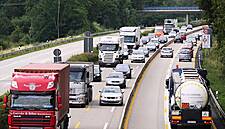 WCS (Worldwide Chain Stores) and Celtech have announced a technology collaboration aimed at solving the challenge of real-time visibility and supply chain control for retailers.
The integration between Celtech's and WCS's solutions for retail and warehouse management offers retailers and wholesalers an integrated, end-to-end retail and warehouse solution, 'out of the box'.
According to Celtech and WCS, the result of the collaboration means that customers will now have maximum visibility of their entire supply chain within the context of a sophisticated retail and warehouse management system.
Big Players In Supply Chain
WCS, a supplier of supply chain and logistics technology has an established 20-year relationship with Celtech, whose software delivers live visibility and instant control to retail and wholesale operations.
Celtech's ab-initio has become a hugely important trading platform for some of the UK's biggest retail chains and independent wholesale groups.
Synergies
Darragh Fanning, Managing Director of Celtech commented, "It's become clear that the synergies between our organisations are perfect for this type of technological collaboration.  Celtech has a proven and powerful solution for retailers and wholesalers who are continuing to face complex challenges in a highly dynamic retail market.
"Working together to offer an 'out of the box' offering, means we are able to offer our customers a next-generation WMS platform that fits perfectly with all the benefits they get from our mission-critical software application."
Joshila Makan, CEO of WCS added, "We strive to offer our customers best-in-class products that deliver true value for money, and this collaboration will ensure we can offer a fully integrated, end-to-end solution for our customers that gives them clear visibility across the whole supply chain.  We're especially excited to align with Celtech given our culture and synergies are so well aligned."
© 2017 - Checkout Magazine