Weekly Round-Up… 28 May, 2019
Published on May 27 2019 4:32 PM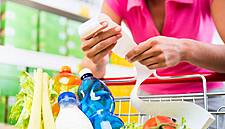 Nielsen 2019 State of the Nation Event will take place on 29 May in Citywest Hotel & is now fully booked. Keynote speaker Economist Jim Power who will look at the broader economic landscape sharing his views on the challenges in the year ahead. Nielsen Head of Client Delivery Claire Cullen will present the State of the Nation, looking at the top trends coming through in FMCG & the shifting dynamics in the retail landscape. There will also be a panel discussion with Ruairi Twomey - Chief Marketing Officer, Tesco Ireland, Declan Livingstone - Customer & Category Director Home Care, Unilever Ireland, Sandra Alvarez - Managing Director, Spark Foundry & Mike Watkins - Head of Retailer and Business and Insight, Nielsen UK
eBay launched its first concept store in the UK. The month-long pop-up shop is eBay's latest commitment to the City of Wolverhampton, where in September eBay announced a partnership with the City Council to help boost 64 local businesses via its Retail Revival program. In the shop, eBay is bringing together 40 small businesses part of the Retail Revival program and showcasing their products and personal stories, including deli's, and home furniture products. Home Grown by Wolverhampton will be open every day from 10am-7pm until June 6.
According to reports, concerns have been raised that the €50 million overhaul of the Phibsboro Shopping Centre might be shelved due to "untenable demands" from Tesco Ireland. The developers behind the project have accused Tesco Ireland of throwing a spanner in the works due to new demands. The talks between Mm Capital and the retail giant have collapsed after the developer claimed that the project was halted because Tesco "backed away from any compromise".
With around 2,700 exhibiting companies taking part and 15,000 trade professionals from 120 countries set to attend, this year's PLMA World of Private Label, which kicked off 21 May, is shaping up to be the biggest private-label trade show of the year. The show is the biggest event on the calendar for anyone involved in private-label development, including representatives from supermarkets, hypermarkets, discounters, drugstores and department stores, as well as importers and exporters, manufacturers, consultants, sales agents, and packaging and design experts.
Retailers have hit out at the slow pace of insurance reform. Rising personal injury awards are threatening the viability of the sector, according to Ibec's Retail Ireland division. Large numbers of retailers will be unable to meet the rising cost of insurance premiums unless urgent reform to the compensation system is put in place.
© 2019 Checkout – your source for the latest Irish retail news. Article by Aidan O'Sullivan. Click sign-up to subscribe to Checkout.